OBJECT OF THE WEEK
BY: NATANIA SHERMAN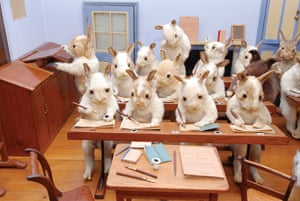 Rabbits Village School from 1888 (source)
I had originally planned to choose a more frightening object of the week since Halloween is coming, but when I learned about these taxidermied tableaux I couldn't resist sharing. Walter Potter was a Victorian taxidermist in Britain who created these eerie yet whimsical arrangements of squirrels, birds, bunnies and kittens re-enacting everyday scenes.
As a young man, Potter began to collect and preserve animal specimens in his spare time. He considered himself to be a naturalist. Inspired by the "anthropomorphic tableaux" on display at the 1851 exhibition, Potter started to place his stuffed animals into scenes of domestic life. The first scene he created is called The Death and Burial of Cock Robin, and was inspired by the popular nursery rhyme. This creation took Potter seven years to complete and became one of his most well known works.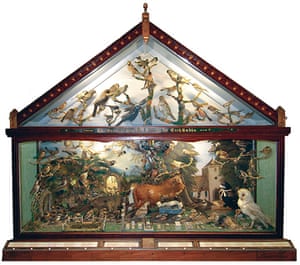 The Death and Burial of Cock Robin (source)
Potter lived in a rather quiet village of Bramber. Recognizing the potential tourist market for Potter's displays, a local pub and hotel owner offered Walter Potter their summer house in 1861 which was eventually became the Bramber Museum of Curiosities in the 1880's. Taxidermy was a major interior decor trend in Victorian parlours and Walter Potter became one of the most well-known taxidermists in Great Britain. Potter continued to create scenes placing animals in human poses and operating his museum up until his death at age eighty two. There is evidence that Potter's museum was incredibly active in the local community. It operated under various owners until it's contents were auctioned off in the early 2000's.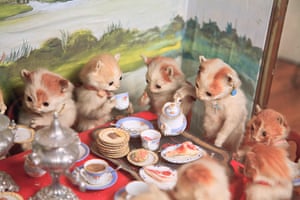 The Kitten's Tea Party and Croquet (source)
Potters taxidermied subjects were sometimes the subject of controversy especially towards the end of the 20th century. While the museum was the subject of much media attention, some visitors thought the collection was macabre, and they questioned the scientific value of his preserved animal curiosities. Despite their strangeness or perhaps because of it, Potter's charming animal scenes tell us much more about Victorian society than many viewers realize. They reveal the often bizarre manifestations of Victorian "science" and showcase our enduring fascination with curiosities.
For more information, here is an excellent video that showcases some more of Walter Potter's collection: