MUSEUM INNOVATIONS
BY: JENNY FORD
Sign at Ellis Island. Source: Jenny Ford
In May 2015, I took a trip to Ellis Island off the coast of New York City. The former immigrant inspection station is a museum and historic site today—but one that was quite bare when I visited. Empty display cases and missing panels were replaced with signs reading: "museum objects temporarily removed from exhibit", referencing damage by Hurricane Sandy in 2012.
I reflected on this sign as I flipped through the American Alliance of Museum's 2015
Trendswatch
guide in December, contemplating another year gone by. Out of the 2015 trends, climate change stood out to me.
The Paris talks are more than a month behind us now, and I began wondering what museums' roles are in this climate change crux we are up against like never before.
CLIMATE AND COLLECTIONS
The AAM's Trendswatch concentrates on the practical here—a sort of "batten down the hatches" call for museums to prepare collections for the imminent disasters ahead, from flooding to tornadoes.
In the case of Ellis Island, the
hurricane flooded
the first floor and basement of the historic site, only destroying one exhibit and thankfully leaving most of the collection untouched. However, most objects had to be removed because the hurricane damaged the climate control system. The fact the cases are still empty speaks to the damage (and cost) and perhaps the feat to make the collection hurricane ready in future.
Staff removing archives and artifacts after the hurricane hit Ellis Island. Source.




There are a number of initiatives tackling these climate change issues, however. There's even an upcoming U.S. conference called
Keeping History Above Water.
The Future of Museums blog also recently posted an
article
about risk management tips for collections given climate change threats.
ENVIRONMENT AND EXHIBITS
But the other side to this climate change challenge is education. When I got thinking, I could list a number of permanent climate-change-related exhibits in museums. The entire story line for the Royal Ontario Museum's permanent
Schad Gallery of Biodiversity
is dedicated to the effects of climate change on biodiversity.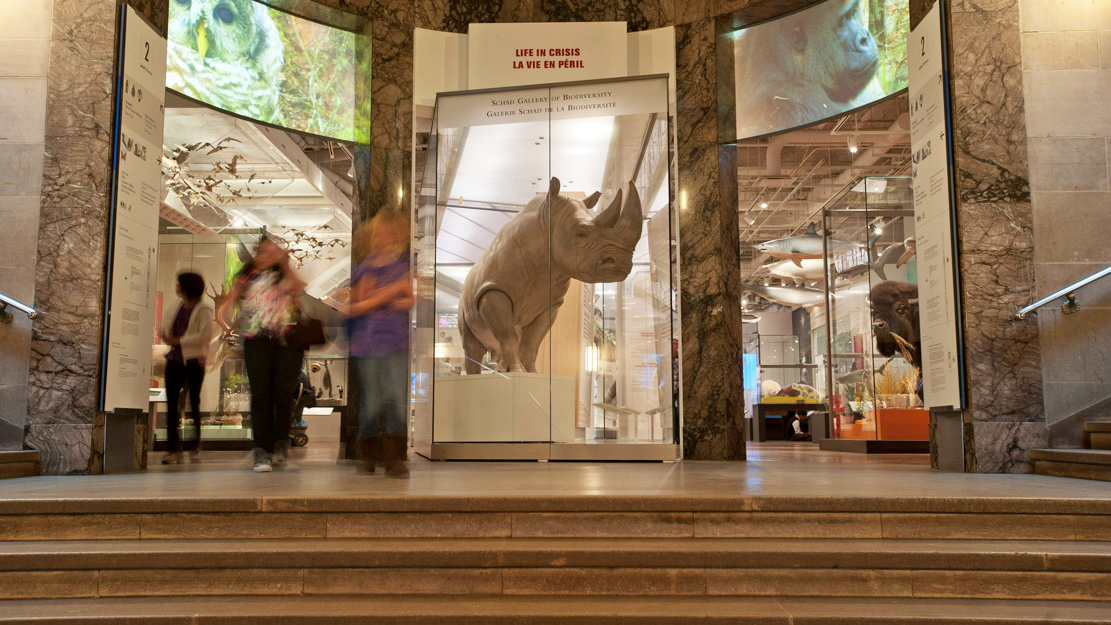 The ROM's Schad Gallery of Biodiversity. Source.
In the states there are also a number of efforts, including the Field Museum's 2010
Climate Change
exhibition in Chicago. The exhibition addressed the contributors to and consequences of climate change.
Perhaps most importantly, there's the ambitious
Climate Change Museum
in New York that launched in July 2015. The museum aims to create "a hub for climate science, art and dialogue: a beacon for solutions."
An exhibit at the Field Museum's Climate Change exhibition. Source.
The estimated opening date is 2020. By then, many of the commitments outlined at the Paris Conference will be on their way... if this round of agreements actually sticks. That being said, there are plans for pop-up exhibits, including one slated for summer 2016 that delves into fossil fuel use in the U.S. An interim museum is also planned for 2017 until the full-fledged museum is ready.
DOING OUR PART?
So, we're attempting to educate the masses, we are planning for disaster, but is the message really sticking? Or is it all falling on deaf ears?
In one skeptical
Guardian article
earlier this year, author Jonathan Jones questions if museums can "deal with this topic in a way that is genuinely informative, intelligent, honest and accessible without being patronising".
Many science museums, accuses Jones, have done a poor job overcoming these communication obstacles, with poorly designed interactives that concentrate more on fun than practical solutions. Specifically, he calls out the London Science Museum, which he argues is more of a playground than actually a showcase for science.
Inside the London Science Museum. Source.
He advocates that in order for climate museums (and exhibits) to work, they need to reinvent the museum itself—educational, interactive, informative, and solution driven. Science and not entertainment needs to be at the core. There needs to be hope beyond the despair, but a hope that's informative, as well.
Whether this is the best or most useful path is a debate for another article. It seems innovation is still wanting when it comes to climate change and museums.
WHAT NEW MUSEUM INNOVATIONS ARE NEEDED TO COMBAT THE CLIMATE CHANGE CRISIS?