MUSEUM MONDAYS
BY: EMMA HOFFMAN
Every December, my family and I watch the
Kennedy Center Honors
: an annually televised program at the John F. Kennedy Center for the Performing Arts in Washington, D.C., during which artists are awarded a lifetime achievement in the arts and are celebrated for their careers and contributions. It is a formal event: the U.S. President and First Spouse are always present, and the cameras always pan back to them so audiences can see how they're enjoying the show. This past Honors, I felt a bittersweet feeling as the cameras kept showing the Obamas dancing, mouthing the words to songs, and generally being #couplegoals. As the inaguration of Donald Trump loomed in near future, we wondered, what would the new president's response to the arts be?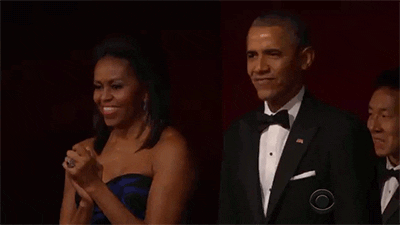 Barack and Michelle groovin'. Source.
I wanted to discuss this topic because last Thursday, President Trump announced in his first federal budget plan, a proposal to terminate the National Endowment for the Arts (NEA) and the National Endowment for the Humanities (NEH). In the U.S. there is a longer and deeper tradition of private funding for the arts than in Canada, and as much of private funding goes to larger, more profitable institutions, there is a fear that smaller museums, galleries, institutions, and arts organizations will be the most detrimentally affected by Trump's proposal.
Although not the most glamorous topic for today's edition of Museum Mondays, grants and other types of financial support from government agencies help support artists and arts organizations. In Toronto, the Toronto Arts Council, the Ontario Arts Council, the Ontario Trillium Foundation, and the Canada Council for the Arts helps provide much-needed financial support to people in the arts who display their work in, and collaborate with museums and institutions, and to museums and institutions themselves.
Let's look at the numbers. While 40% of the NEA's current funding goes directly to state-wide arts agencies, the rest of the NEA's funding is awarded directly to arts agencies and 65% of that direct funding goes to small and medium-sized organizations (NEA Quick Facts 2017). Furthermore, much of the aforementioned direct funding goes towards organizations who support under-served populations who have the opportunity to benefit from community arts programming.
I'm not yet 100% convinced that Trump's proposal to eliminate these critical funding structures will proceed in practice however, as an Emerging Museum Professional, I'm worried that the job prospects and opportunities for many arts professionals in the United States will be compromised by severe cuts to public funding. Although there is no easy solution to these complex issues at hand, I'm thinking about ways to support our colleagues south of the border while marinating on the real possibility that come December 2017, there might be no Kennedy Center Honors at all, or, even worse, Trump might be dancing in the stands.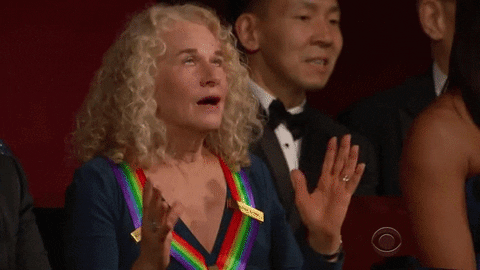 My girl Carole King at the Kennedy Center Honors. Source.
As usual, I'd love to hear your comments below! So as not to end on such a somber note, I am planning on graduating after this semester, and this is my last time writing Museum Mondays! Have fun and stay cool my awesome readers! Emma Hoffman: signing out.
References
Deb, S. (2017, March 15). "Trump Proposes Eliminating the Arts and Humanities Endowments."
The New York Times
. Retrieved from https://www.theatlantic.com/entertainment/archive/2017/03/what-eliminating-the-arts-and-humanities-endowments-would-really-mean/519774/.
Gilbert, S. (2017, March 16). "The Real Cost of Abolishing the National Endowment for the Arts."
The Atlantic
. Retrieved from https://www.theatlantic.com/entertainment/archive/2017/03/what-eliminating-the-arts-and-humanities-endowments-would-really-mean/519774/.
NEA. (2017). "NEA Quick Facts."
National Endowment for the Arts
. Retrieved from https://www.arts.gov/sites/default/files/nea-quick-facts.pdf.