A MUSE BOUCHE
BY: JENNIFER LEE
How much time do you spend thinking about your food? The everyday business of shopping for, buying, cooking, and eating food consumes enough attention that we can miss opportunities to consider the cultural, economic, and historical processes that shape our diets. If you've ever wondered why nutrition labels look the way they do, or who decided that carbs were bad for you anyway - or if this is the first time you've pondered this - the Smithsonian's National Museum of American History might be able to help you out.
Take a moment to stop and think about food. Source.
From Oct 26 to 28, the Smithsonian Institution will host the third annual Smithsonian Food History Weekend under the theme 'Many Flavors, One Nation'. The weekend brings researchers, culinary practitioners, writers, and the general public to the National Museum of American History to discuss and understand the history and role of food in America. The meat of the weekend lies in the moderated roundtable discussions (free to attend and streamed online) and Saturday's Food History Festival, a day stuffed full of food-related public programming.
Commendably, the SI keeps its yearly weekends topical; last year's theme was 'Politics on Your Plate', in keeping with the end of the 2016 election campaign season. Each Food History Weekend wrestles with big and often difficult questions and themes, including identity and the politics of farm labour, nutrition, and health. In 2016, participants and attendees asked, "
Whose voices are influencing food policy today? What are the critical issues, and what role does democracy play in the future of food in America?"
This year, the weekend will centre on stories of migration, cultural exchange, tradition, and identity. The theme suggests that the weekend will embrace pluralism and emphasize the diversity of American food history: the ways in which all of our foodways and traditions influence each other. A public discussion on culinary diplomacy ("
A new soft power, culinary diplomacy has the ability to bridge conflicts in situations where traditional forms of diplomacy have been ineffective"
) seems almost comically well-timed for the current political climate.
The Food History Weekend is only one pea in a pod full of food-history initiatives at the Smithsonian. The NMAH boasts a full slate (or perhaps a full plate?) of exhibitions and programming that examine why and how Americans eat the way they do. Most famously, the museum houses Julia Child's kitchen, which was featured in her later cooking shows and relocated from her home in Massachusetts, complete with her signature copper pans.
Julia Child's iconic kitchen, preserved at the NMAH. Try to resist doing the Voice. Source.
Child's kitchen serves as the gateway to the ongoing exhibition
FOOD: Transforming the American Table 1950-2000
, which examines the changes wrought by innovation, industry, and cultural change on American diets. A demonstration kitchen hosts regular historically-inspired demos hosted by Smithsonian staff and guest chefs, and the museum runs programming outdoors in its gardens, including a recreated wartime Victory Garden.
The Smithsonian's commitment extends into the history of beverages. In January of this year,
it hired Theresa McCulla as overseer of its American Brewing History Initiative
(described by more than one media outlet as 'the best job ever'). McCulla, a Harvard scholar whose background is in social history and food literacy, began by surveying the museum's beer-related collections. She stated in January that she especially hopes to illuminate the overlooked role of women, immigrants, and enslaved people in the early history of American brewing.
Why this commitment to food history, and why does it matter?
Food history as demonstrated in museums (one of the most publicly accessible media through which people can learn about food) often takes the shape of demonstrating pre-industrial processes and recipes from the history of white settlement in North America:
this is how pioneers made bread and brewed beer.
Less frequently, museums and heritage sites may expose visitors to Indigenous foodways, usually also rooted in the distant past. These approaches are limited in time and scope: food history isn't just about what white pioneers ate, but how all people have fed and continue to feed ourselves. What's missing is a discussion of how we got from breadmaking in the eighteenth century to Yelp reviews of sushi in 2017, how culinary traditions have been adapted to meet the needs of the recent past and the present, and a critical look at how we think about food, including diet culture, food labour, and food literacy.
Food is both universal and highly specific. The ways in which we eat and think about eating are determined by and reflect our time, place, class, ethnicity, and gender. The universality of food as an experience makes it an ideal starting point for education: visitors already have a strong personal connection to the subject.
It's loaded with meaning, and that means it's well worth talking about everywhere in the public sphere, but especially in museums. At the same time, food can act as a gateway to topics we need to address more than ever: health, politics, labour, the environment, and racial and cultural difference. The Smithsonian's food history programming recognizes that we are what we eat, and if what we eat isn't ideal, that's an interesting avenue to discuss, too.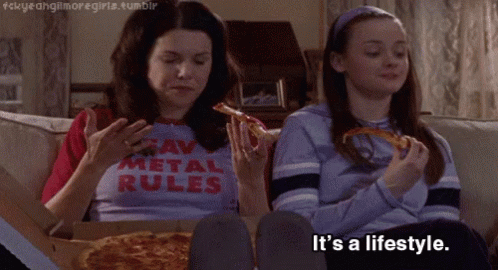 Can food history programming tell me why millennials are obsessed with pizza? Actually, yes, it probably can. Source.

The Food History Weekend programming champions diversity, research, and critical thinking, which will be increasingly important as we face a changing intellectual landscape, in which there are facts, "facts", and Twitter.
As stewards of material culture and historical record, heritage institutions are well-placed to help people think through historical processes and current events, and institutions like the NMAH have the resources to do this in a big way. The museum was the third most-visited Smithsonian institution last year, after the Air and Space and Natural History Museums, and welcomed
3.6 million visitors
. Even without the impact of online content such as podcasts, blog posts, and the streamable Food History Weekend roundtables, that's a pretty impressive reach, and it represents 3.6 million opportunities to get people thinking critically about their food.
If you're interested in food history at the Smithsonian, I suggest checking out the
NMAH blog's food history tag
and the
Food History Weekend page
for videos of past roundtable events. If you're podcast-inclined, there's an
interview with beer historian Teresa McCulla on the Smithsonian podcast, Sidedoor.